For the past two years I have worked alongside five schools with over 900 children from 2-years-old to 11-years- old to create a lasting legacy project in their schools. Each of the children created their own unique ceramic leaf to adorn their schools tree. For the very first tree project I worked with the children and staff of St Mary & St Giles South in Milton Keynes. I was asked to create a permanent installation enabling the pupils of 2017 to leave an artistic legacy in the school to commemorate the 50th birthday of Milton Keynes. Enabling and participation are an important part of my practice and I decided to design a collaborative piece of art which everyone could add to individually. All the parts would join together to form a whole, expressing the collective vision of everyone in the school.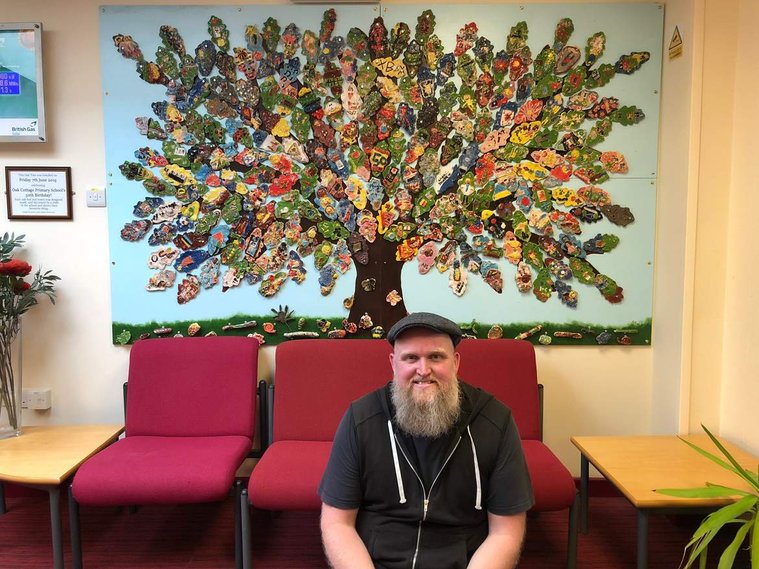 The Hometown Tree is like a school family tree. It has the strong, central structure of the trunk, growing into branches that support the individual ceramic leaves which stand for every person who took part. Each leaf was designed, made and glazed by a pupil, teacher, or teaching assistant. The leaves are all personal but also all connected.
In each of the schools I discussed with the children their favourite things in their hometown, either somewhere they liked to go or something they liked to do. Then they made drawings. Once everyone had a design they were happy with, we began to work in clay. Each child cut out the shape of a leaf, made their design in 3D on the leaf, then glazed their finished design. For many of the children it was the first time they'd tried anything like this, but they have all taken to it quickly and were interested to learn. Staff joined in too!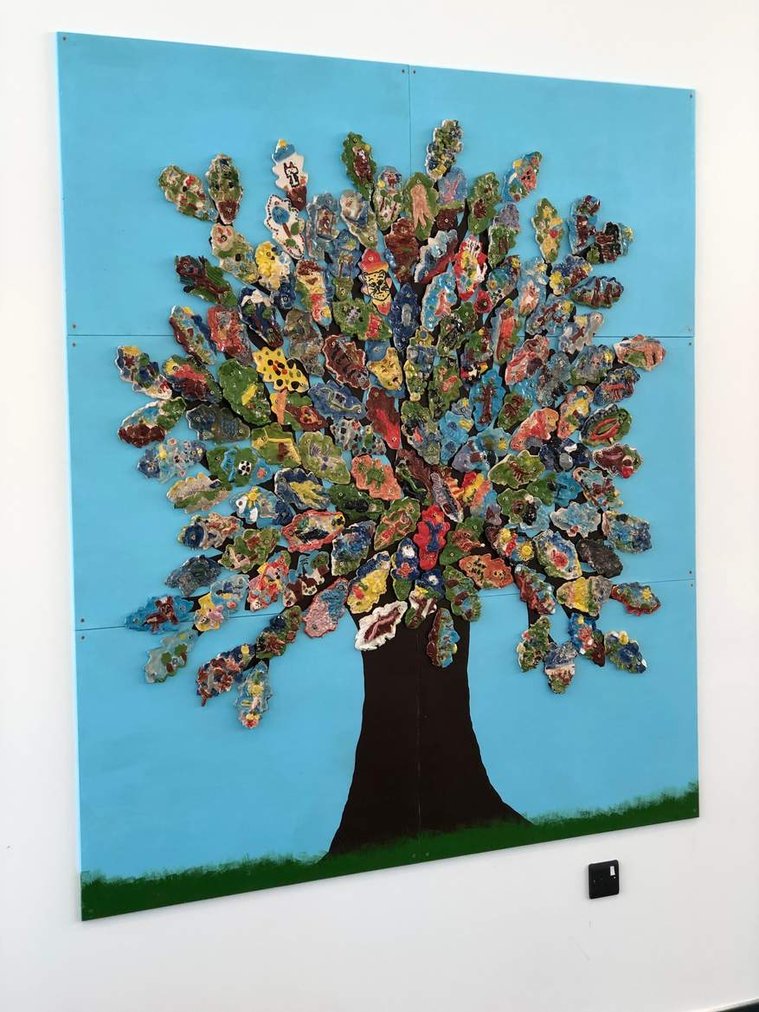 I fired all of the completed leaves in my kilns at my studio. Whilst they were firing I went back to each of the schools and painted their very own tree on wooden boards attached to walls in various locations in the schools including main receptions, corridors and a Nursery space.
All of the children I've worked with have been so full of enthusiasm at seeing their tree go up, and have all been very excited as I started to attach the leaves. They love walking past,commenting on the development of the painting and offering suggestions, and trying to spot if their leaf has been attached yet. There was such a buzz in each of the schools I've worked in so far and whilst I was working; so much interest, chatter and energy. It was a lot of fun!
I've noticed there is a real feeling of togetherness in each of the schools during the making of their tree project. It's been lovely to hear children of all ages chatting to each other about the work. This is the beauty of this sort of participation art; everyone can have a sense of pride and ownership in the finished piece. I could feel the excitement growing as each of the trees neared completion.
I have really enjoyed working on each of the tree projects, and meeting everyone at the schools. I'd like to say a big thank you to St. Mary & St. Giles South School, Oak Cottage Primary School, Cotton End Forest School, Strathmore Infant & Nursery School and Northampton High School for making me feel so welcome in each of your lovely schools.
For the very first tree project I worked closely with The Culture Challenge and I'd like to thank them for connecting the school and me so we were able to work together.
I hope everyone at each of the schools will enjoy the work we have created together for years to come.
Contact me here using the form below to discuss your school project.